Image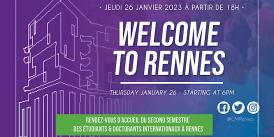 Contenu sous forme de paragraphes
texte
Are you a new international student in Rennes? Let's meet on Thursday January 26, 2023 for a new edition of the welcome event for international students, PhD students & researchers in Rennes. A FREE event to collect information, useful tips and gifts at the Cité Internationale!
This event is only open to international students and PhD students who arrived in Rennes in the second semester.
The evening's programme
18H: Opening of the Cité Internationale > Greeting of the attendees
18H15: Boardroom > Welcome meeting & practical information with the CMI Rennes > Presentation of the ESN Rennes association > Presentation of CMI partners > Welcome Pack > Animation / quiz
7.30 pm: Welcome cocktail in the Cité Internationale Lobby: CMI Rennes offers all attendees a welcome cocktail. An opportunity to get to know each other over a drink in a friendly atmosphere!
7.30 pm to 8.30 pm: Reservation for shows and day trips in the Cultural Agenda, sale of ESN cards
21H00: Welcome Party by ESN Rennes - The end of year festivities are over, and the second semester begins with the arrival of new international students! Come and celebrate the new year, the end of exams, and meet new people. Party organised by the ESN Rennes association