Image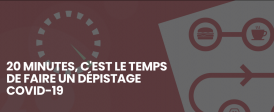 Contenu sous forme de paragraphes
texte
A tailor-made system on each university campus:
Since Monday, January 25th, students have been invited to get tested free of charge in less than 30 minutes, with results, on the Beaulieu, Villejean, Centre and Ker Lann campuses, from 1:00 pm to 5:30 pm, without an appointment:
Rennes 2's Villejean Campus:

Campus Santé, 2 avenue du Professeur Léon Bernard, Bâtiment 01, Salle 012, Cafétéria des Professeurs.

Campus de Beaulieu: 263 avenue du Général Leclerc, Building 01A, Room 03,

Club des Professeurs

Campus Centre : Faculté des Sciences Economiques, 7 place Hoche, Bâtiment 01, Salle 091, Salle des actes

Ker Lann Campus:

Maison du campus, Contour Antoine de St Exupéry in Bruz
See the available maps of the centres here. 
This campaign will last until the end of the academic year. You can find the schedule and available times for the Villejean screening center here. 
The mobilization of student COVID prevention ambassadors throughout this process should allow for the dissemination of awareness messages relating to health measures, vaccination, etc.
Find all the information on the screening process on the UniR project website.
* RT-PCR tests will also be used, particularly if an individual presents symptoms suggestive of COVID-19 or in the case of a suspected variant.