Image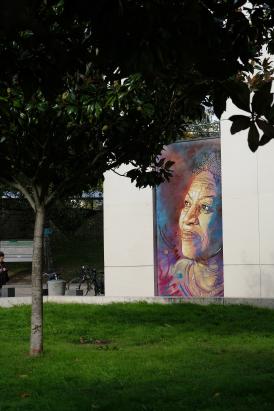 Contenu sous forme de paragraphes
texte
Thanks to the contributions of a diverse number of artists who have passed through the university's halls, the artistic heritage that can be found on Rennes 2's campuses is regularly evolving. Several urban artists have already added to campus common spaces. Last week, Christian Guémy, alias C215, became the latest artist to leave his mark on the Villejean campus on the occasion of a seminar dedicated to street art: Physical and Virtual Territories, Intersections and Interactions.
The famous French artist and stencil maker was the guest of the day's activities, organized by Anne Puech, Lecturer in the Department of Applied Foreign Languages (LEA). For this occasion, the university gave Guémy carte blanche to paint a portrait in homage to a great figure from the world of literature.
Located on the L Building  of the campus, his work pays tribute to Chloe Ardelia Wofford, better known as Toni Morrison, a great American novelist who died at the age of 88 on August 5, 2019. The first African-American author to receive the Nobel Prize in Literature in 1993, her work addresses the problems of segregation and the hardship of living conditions of African-American women in the United States.
This work is today visible, and completes an already dense collection of artwork on the Villejean campus.
For the same occasion, urban artists Marco Pardo and Santiago Morilla also created a large fresco on the roof of the M building, a work full of poetry, visible from the sky and the heights of the surrounding buildings.
Image