Image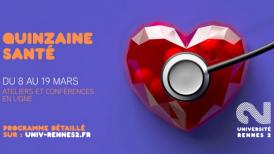 Contenu sous forme de paragraphes
texte
For the first time, Rennes 2 will be organizing a series of workshops and information sessions focusing entirely on health and wellbeing for its students and staff. Initially planned to take place last year, the pandemic and resulting confinement necessitated the delay of this important event. This year, our management team has decided to organize most sessions online to allow for the maximum amount of participation over the course of two weeks. 
Online Workshops and Conferences
The foreseen workshops and conferences will provide the student community with important information on the benefits of positive communication, self-confidence through positive psychology, and controlled breathing as a relaxation technique...  
A psychologist will also be offering training to the university staff on ways to help identify and guide students who are experiencing psychological distress or suffering. In addition, several appointments have been specifically designed to promote the well-being of the staff through different techniques: sophrology, Qi-Gong, self-massage...  
A limited selection of in-person workshops
Two on-campus workshops will be held for students and staff: a walk to learn about medicinal plants and a workshop that focuses on health through chanting. Participants must register in advance for these sessions in order to respect the current health protocol.
The Quinzaine Santé event is being organized in complement with other specific actions taken by the university which aim to decrease feelings of isolation and psychological distress in the community, including counseling assistance from the BAPU (university psychological support services), the Covid Prevention Ambassadors, student health relays on campuses, etc. 
The full program and remote access codes are available here: https://www.univ-rennes2.fr/calendar_rennes2/event/15465.