Image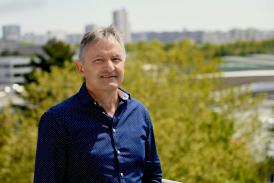 Légende
Vincent Gouëset in May 2023.
Contenu sous forme de paragraphes
texte
Vincent Gouëset, representing the list Engagé-es pour Rennes 2 (FSU), was elected, after the first round of voting, with 24 votes. The Governing Board, which elected Vincent Gouëset, is composed of staff and student representatives who are elected by vote in early April, as well as four persons representing local authorities and the CNRS (The National Centre for Scientific Research), and four external persons designated by the members of the Board.
The President, a geographer and specialist of Latin America
Vincent Gouëset is a Professor of Geography and a specialist in urban issues in Latin America, particularly mobility. He is a member of the laboratory ESO, Espaces et Sociétés (UMR 6590 CNRS) of which he was Director from 2011 to 2017. He co-directs the ANR Modural project (2020-2023) on sustainable mobility practices in Bogota (Colombia) and Lima (Peru).
A teacher-researcher at Rennes 2 University for over 30 years, his commitment to our community is strong. He is an elected member of the Academic Council and the Research Commission of Rennes 2, as well as the National Council of Universities and the National Committee of the CNRS.
A new team with strong political priorities
Vincent Gouëset presented his new team of Vice-Presidents and Project Managers to the Governing Board. This team will succeed that of Christine Rivalan Guégo, President of Rennes 2 University from September 2021 to the beginning of May 2023. Christine Rivalan Guégo, Professor of Contemporary Spanish Literature and Co-director of the Groupe de Recherche et d'Étude sur Culture Écrite et Société, will resume her research activities and continue her commitment to the fight against discrimination and sexual and gender-based violence as President the Francophone Network of Responsible Women in Higher Education and Research (Resuff).
With his team, Vincent Gouëset is actively engaged in supporting principles of quality of life at work, equality and social dialogue. He is committed to education, research, international outreach and the cultural influence of his institution, and is also determined to champion Rennes 2 through university cooperative relationships, working in conjunction with the University of Rennes and the other institutions in and around Rennes. He intends to pursue the university's commitment to the socio-environmental transition, to contribute to the fight against global warming.