Image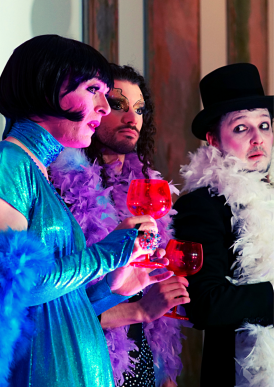 Légende
Cabaret drag © Association MultiRegard
Contenu sous forme de paragraphes
texte
Show | Cabaret La D.R.A.G.
RENNAISE DIRECTION OF THE GLAMOROUS APPROXIMATIONS
"It's better to laugh than to not care."
The D.R.A.G - *Direction Rennaise des Approximations Glamours* - presents its cabaret show in which four soloists follow each other and go wild, each one using his own artistic disciplines to propose a form where softly irreverent humor meets contemplative paintings, and where the stage becomes the ground of the absurdity of the world.
Sketch, drag-queen, puppetry, mask, stripping, contemporary dance, butō, and transformism, the show juggles genres. The four artists come to question our relationship to representation by breaking spaces and addresses, joyfully questioning the codes of theatricality.
With David Perrot, Shirley Van Mac Beal, Phoebus Fragonard, Melvin Coppalle.