Image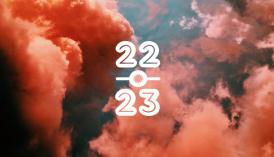 Contenu sous forme de paragraphes
texte
"How can we stay grounded when everything is shaking around us? Perhaps precisely by making our own this awareness of disequilibrium, of doubt, this opening of a critical space for analysis and reflection, this distancing from authority that non-knowledge permits. The university is a place of research, the human and social sciences a framework to question knowledge, and the artists emissaries who allow different viewpoints to emerge."
- Sarah Dessaint, Head of the Rennes 2 Cultural Office and Equality Officer
What can you expect from the 2022-2023 offering?
This year, like years before, the Rennes 2 Cultural Office proudly invites you to discover this season's program.
See which topics will be discussed during the new cycle of Equality Tuesdays, or dive into the strange, colorful, mystical and political worlds of the photographic artists to be exhibited this year. In the field of performing arts, while the forms and themes vary constantly, we will again be offering concerts, theater, dance, screenings, meetings... all the while tackling social, political and aesthetic issues.
So don't hesitate to join us as we step into the artists' views of our world. Voluntarily militant, this year's events will surely questions our relationship with what surrounds us.
Some specific events not to miss in September:
On September 15th, the season will be presented and followed by a concert by Marta Herschel (guitar and vocals) and Camille Doucet (drums and vocals) (Rock/Folk-Rock/Indie-Rock). Marta Herschel is one of the winners of the 2022 edition of the springboard for contemporary music À vous de jouer.

For the European Heritage Days (the weekend of September 16th, discover the works of art installed on the Villejean campus. The cultural service and the Master's degree in Mediation of Heritage and History in Europe (MPHE) have designed a guided tour for which you can register that will allow you to explore this little-known heritage. 

From September 12 - October 14, the exhibition "Humaines", with photographs by Olivia Gay. A photographer committed to documentary and social issues, Olivia Gay was welcomed at Rennes 2 in 2022 with the goal of meeting female teachers-researchers. In this exhibition, she presents a part of this artistic investigation, which links photographs and testimonies, and delivers a sensitive account of the daily life of these women scientists.

Mardis de l'égalité: "Colette Cosnier, a pioneer of Rennes 2 University". September 27th - Meeting with Patricia Godard, author, and Elise Calvez, co-president of HF Bretagne. Colette Cosnier (1936-2016) taught general and comparative literature at the University of Rennes 2 from 1973 to 1995. Elise Calvez, co-president of HF Bretagne, an organization that works for real equality between women and men in the arts and culture, Patricia Godard, author of "Colette Cosnier, un féminisme en toutes lettres" (Éditions Goater, 2022), will revisit the career of this feminist, atypical and non-conformist teacher.