Image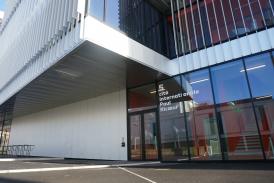 Contenu sous forme de paragraphes
texte
Orientation and Integration Week for Exchange Students
January 9 - 13, 2023
Are you a new international student in an exchange program recently arrived at Rennes 2 University?  Meet other new students and find out important information regarding academic and administrative procedures thanks to help from staff of the Rennes 2 International Office. See the full program available here.
Be sure not to miss the general meeting on Tuesday, January 10th. This meeting provides students with an overview of what to expect this semester, a useful list of people to contact in case of questions and more. Numerous visits will also be offered during the week - discover the campus, the city of Rennes, and the Mont Saint Michel!
Welcome Evening at the CMI Rennes
Thursday, January 26, starting at 6:00 pm.
The International Mobility Center (CMI Rennes) is inviting all new international students (exchange students as well as students enrolled in individual diploma programs) arriving in the second semester to its welcome evening. On the program: presentation of the CMI and its services, presentation of partners and associations, animation - pop quiz "Discovering France and Brittany", booking of excursions and shows of the Cultural Agenda, and a convivial moment in the hall of the Cité Internationale. The event will continue, at 9pm, with a traditional "Welcome Party" of the association ESN Rennes for those who wish to join. Register here
French Courses at the CIREFE (for International Researchers)
The Center for International Mobility in Rennes (CMI Rennes), in partnership with the CIREFE (Centre International Rennais d'Etudes de Français pour Etrangers) Rennes 2 University, offers French as a Foreign Language (FLE) courses for a fee for researchers and doctoral students of the CMI Rennes member institutions.
Organization of the session: 44 hours of classes, spread over 11 weeks with 4 hours of classes per week. The courses will take place twice a week, from Monday to Thursday between 6:15 pm and 8:15 pm. Course dates: from Monday, January 23, 2023 to Thursday, April 13, 2023
Location: CIREFE premises (Rennes 2 University - Villejean campus) / More information available here. 
Other things to do in and around Rennes in January. 
Other things to keep in mind as a new arrival: 
Residence permits and long-stay visas
If your residence permit/long-stay visa expires in two months or less, there is still time to apply, even if you do not yet have the new 2022/2023 registration or your final transcript.
The most important thing is to file the application at least two months before the expiration of the current residence permit (this is the deadline stipulated in the regulations). Find out everything you need to know with help from the CMI Rennes.