Image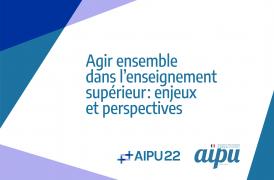 Contenu sous forme de paragraphes
texte
The 32nd Congress of the International Association of University Pedagogy (AIPU) will take place in France, in Rennes, from May 30 to June 3, 2022. The theme of this year's Congress is: Acting Together in Higher Education: Challenges and Perspectives.
An increasing number of disruptive events (economic, ecological, health crises, etc.) are raising questions about the future of our world. The current social and health crisis caused by Covid-19 shows how much our economic, social and educational systems can be shaken.
The actors of the world of education and training cannot remain unaffected by these transformations. They question access to education, the contents and methods of teaching and the meaning of an education extended to the critical and distanced analysis of the phenomena that cross our societies.
Find all the information about the Congress and the call for papers on the event's website: www.aipu2022.fr.