Image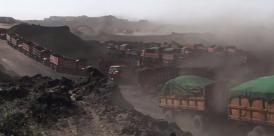 Contenu sous forme de paragraphes
texte
Creating a new space-time: this is how we could summarize Catherine Rascon's editing work on the two films screened tonight. If Coal Money depicts the arid lands surrounding the mines of Mongolia where trucks loaded with coal, the precious material on which the workers' lives depend, are constantly coming and going, A few days together takes place in the enclosed space of the Trans-Siberian Railway, which crosses the immensity of Russia in a few days. 
In these two films, Catherine Rascon's goal is to reconstitute real universes. Tonight, two worlds inhabited by strong characters and driven by political issues are offered to you. Let yourself be carried away and get to know these men and women, so far away and yet so close to us.
6pm: Coal Money 
(Wang Bing, China/France, 2009, 53 min., DCP)
followed by a meeting with Catherine Rascon, film editor
In partnership with the exhibition "Wang Bing à la trace" 
8:30 pm: Quelques jours ensemble/ A few days together
(Stéphane Breton, France, 2014, 90 min., DCP)
presented by Catherine Rascon, film editor