Image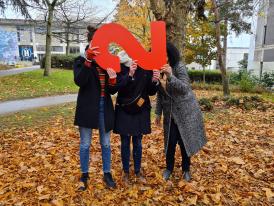 Contenu sous forme de paragraphes
texte
On November 25th, 2022, Rennes 2 University will once again mark its commitment to promoting gender equality, inclusion, diversity, accessibility and to fight against sexual and gender-based violence by participating in the #OrangeDay campaign. Various activities will be scheduled throughout the day in order to raise awareness among the university community on this occasion. Students and staff will be able to try out a selection of games from the new equality-themed section of the recreational library, which since the start of the academic year has offered a catalog of more than 20 references aimed at questioning and deconstructing clichés and prejudices. Students will also be able to find out about the reporting procedure, which has been in place since October, to effectively handle reports of harassment, aggression or discrimination against students.
Ahead of this day, two events will be held on November 22nd, 2022: 
 


At 5:30 p.m. at the Tambour (on the Villejean campus), Equality Tuesday: "¡Ni una menos! Fighting macho violence: from the law to its implementation": a conference by Glòria Casas Vila, sociologist at the University Toulouse Jean Jaurès, on the situation in Spain;

 


At 8pm at the Tambour, "Laboratoria: Y perdi mi centro": an experimental, multidisciplinary and feminist flamenco show.
Mots clés