Image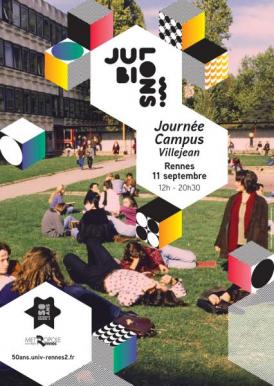 Contenu sous forme de paragraphes
texte
To mark the beginning of the academic year, Rennes 2 is organizing its Journée Campus / Campus Day
A day of conviviality, this annual event is an opportunity to discover a variety of resources related to university life.
Come visit the many information stands and discuss important issues with different campus stakeholders: student organizations, cultural activities, health, housing, etc. 
This special edition will also mark the 50th anniversary of Rennes 2 University!
When: Wednesday, September 11, 2019 (from 12 noon to 8.30 pm).
 
**
Are you an international student? Come see us at the International Desk!
Get information and participate in activities (
sign up for our escape game
, quizzes and gifts)! **
texte
More Information Stands: from 12pm to 5pm
Associative village: stands and activities proposed by student organizations
See the list of student organizations at Rennes 2 University
Student Life Office: collect goodies and come and get your welcome pack. Also, free distribution of feminine products.
Culture Pole: Get plenty of cultural information! Go to the lobby of Building L to meet the cultural actors on campus, participate in activities and win gifts! On the program: treasure hunt, listening room, board games, giant colorings, radio animation initiations, theremin-arduino workshops, book sculpture workshops,...
Information on university services: Come and learn about the Student Initiative Fund and the services of the Relais handicap
Health / Social village: with the Student Health Centre, CPAM, CAF and CROUS, MGEN and Mutualité Française   
Rennes Life: The City of Rennes presents the ND4J plan, aid to student organizations
Transport Information: Kéolis, SNCF /TER Breizh Go, Breizh Go / Illenoo, Cityz Rennes Métropole
Image

texte
Other Activities from 12pm to 8.30pm
12pm: Picnic lunch (offered)
12:30 - 1:15pm: Freak it out concert (winner of the student springboard Musiques actuelles 2019)
1:30pm - 2:45pm: DJ set - Les Kitschenette's
3pm: Drag me Out! A performance proposed by the organization Arène théâtre  - prepare to be dazzled!
4:30pm - 5pm : -DJ set - Les Kitschenette's
5:15pm - 6pm : Tombola and BVE pot: Collect your tickets all day long (5 max per person) on the association stands and be present during the draw! Many prizes to be won! (Regulation in progress) At the end of the raffle, a jar will also be offered to you by the BVE.
6pm and 8.30pm: Cinema at the Ciné-Tambour - The Psychedelic 60's
For the occasion of the 50th anniversary of Rennes 2, the Ciné-Tambour will team up with the Écrans variables to transport you back to 1969, the very heart of the psychedelic movement. A highlight of this period, Woodstock will be featured with Ken Russell's film Tommy during the first part of the evening. The second part of the night will explore the experimental cinema of the time through a round of short films designed to immerse you in a real visual and sound journey to the land of psychedelia. So let yourself be carried away by the images and sounds at the Ciné-Tambour! 
And all day long:
Douch'Box: An unexpected and offbeat karaoke, hidden from view where you can sing alone, with two or more people and show your talent to the world. Special 50th anniversary edition!
Ateliers de l'Édulab: Make your 50th anniversary keychain using laser cutting techniques
Student activities : Mechanical bull, bubble soccer, initiation to quidditch...
Photobooth: Come and take a picture of yourself in the campus spirit!
Free space: Do you have items at home that you no longer need? Are you missing things in your home space? Leave or take something you need from the free space! 
The university's pop-up store: A new range of student items will be on sale in Hall B (come prepared - cash or checks only please).