Image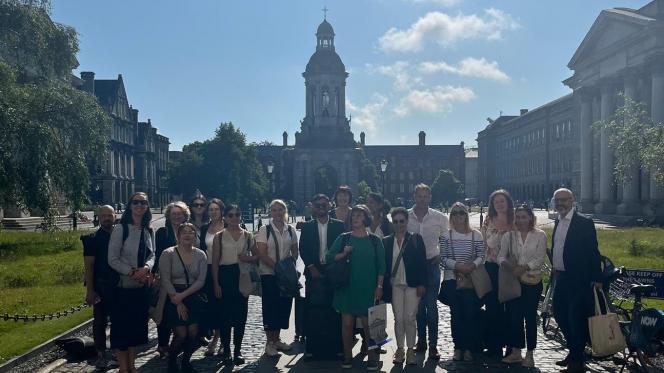 Contenu sous forme de paragraphes
texte
On June 21- 24, over forty staff members and students working and studying in French and Irish higher education establishments gathered in Dublin for the symposium 'Welcoming international students: enhancing the attractiveness of higher education institutions. The event, organized in the form of thematic roundtables, provided each representative the opportunity to discuss the ways in which they support international students through 3 central topics: 
interculturality (activities and services that promote social inclusion)

the welcoming process (welcome-desk services and the integration of students through projects) 

and sustainable development (university diploma programs and specific campus initiatives).
texte
Rennes 2 University was asked to speak on the theme of sustainable development, with a staff member from the International Office presenting an overview of the University's sustainable development strategy and action plan and its related flagship program: the ESS Cargo and free student grocery shop. The ESS Cargo is a 'third place' located on Rennes 2's main campus in the Villejean neighborhood of Rennes that welcomes students and staff as well as members of the surrounding community. In addition to being a large multidimensional physical space created to facilitate the making of connections in the community, it also has two explicit goals: to support community projects that have a positive environmental impact and projects that are strong in social innovation. International students are invited to participate and/or volunteer in the initiative which can be a helpful way to get to know others in the community, participate in language exchange conversations, or take advantage of the free student grocery store. 
Image

Légende
Panel on Sustainable Development
texte
The symposium was organized by Campus France (the national agency responsible for promoting French higher education abroad), in partnership with the French Embassy of Ireland and the Irish Universities Association (IUA).The event was part of a communication and practice-sharing initiative to promote the "Welcome to France" label, which guarantees a warm welcome for international students in certified institutions. Rennes 2 has been a certified institution since 2019.
Image
Légende
International Student Presentation
texte
Ties between France and Ireland in the field of education are notably strong. The French are the first nationality of students from the European Union in Ireland, and France is the first Erasmus+ destination for Irish students. Rennes 2 University is also part of the Wild Atlantic Alliance (WAA), the Breton-Irish collaboration which seeks to strengthen and reaffirm historical links between Brittany and Ireland in a post-Brexit context. In addition to the 4 Breton universities involved, the Alliance includes the University College Cork, University of Galway and the University of Limerick. Along with their involvement in the WAA, Rennes 2 and the University of Limerick are also partners in the EMERGE consortium, a partnership of 9 European higher education institutions. The group seeks to connect and transform the individual educational and research-based programs for the benefit of each university's students, researchers and local communities.