Image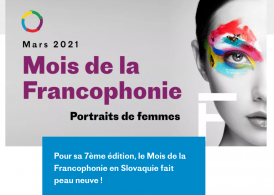 Contenu sous forme de paragraphes
texte
"Bringing culture to life and offering viewers the opportunity to travel from home."
For this reason, the organizers of the month of Francophonie have opted for an exclusively online edition in this very special year!
The 2021 edition is also marked by a new twist: the introduction of the concept of "fil rouge", the main theme of the edition. This year, women will be honored through portraits that will invite you to travel and discover women, social realities, empowerment, successes and extraordinary journeys.
Project organizers would be pleased to send you the program (with remote access links) of the DECLAME'FLE Intensive Training Week that will take place online from March 22nd through March 26th, 2021. 
The program as well as the documents (excerpts and exercises to be read before each workshop) of the different workshops are or will be downloadable on the DECLAME'FLE padlet. The documents for workshop 2 have already been posted on the Padlet, those for the other workshops will be posted in the next few days.