Image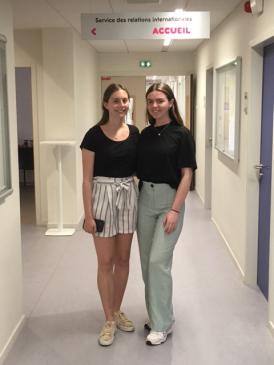 Légende
Eva and Maeve during their stay at Rennes 2.
Contenu sous forme de paragraphes
texte
Could you please introduce yourselves and tell us a bit about where you are in your studies?
My name is Eva Kelly and I am from County Galway. I just completed my first year in LM091 at the University of Limerick - studying French and Spanish combined with education. I hope to become a secondary school teacher after graduation, and I am very passionate about learning French. This is my first time working in an educational setting.
My name is Maeve O'Connor. I am entering my third year of languages with education at the University of Limerick, studying French and Gaeilge. This is my second time in Brittany, having worked in the summer of 2021 as an au pair in the region.
How did you get the idea to do an internship?
A number of partners from the EMERGE consortium met in May for a "Staff Week"at the University of Limerick. Jennifer Hennessy, Director of our bachelor's program, and Christine Evain, Co-Director of the master's program in language didactics at Rennes 2, discussed possible joint projects. Following this exchange, Christine, with the support of Amal Jouffe-El Amrani, Director of the International Relations Office at Rennes 2, agreed to take on two students for an internship during the month of June 2022. We both applied and were lucky enough to have our applications accepted.
What kinds of projects did you work on while at Rennes 2?
We really helped work on a diversity of projects during our one-month internship. We also attended several conferences that focused on language acquisition, language learning, language pedagogy, and teaching French as a foreign language, all of which are central to our current studies. We worked under Christine Evain, a leader in her field and alongside master's students of the language didactics program as well as other interns of many nationalities in French. Concretely, we contributed to the making of promotional videos for big events held at Rennes 2, creating albums of past conferences, and using excel to timetable the next semester of the master's programs.
Image

texte
Rennes 2 is home to many language research projects such as the "Défi Environmental Virtual" (DEV) project and the English version, the "Virtual Environmental Challenge" (VEC) project. This research project takes the approach of learning through doing and language for specific purposes while simultaneously educating students on the environment. Students from several partner universities took part in the challenges including the University of Limerick. We also got the opportunity to visit a preschool school to launch the "Petite DEV", a project which encourages young students to help the environment. This allowed us to reflect on the differences between the French and Irish education systems from as early as pre-school education. The opportunity to interact with the children was very enjoyable and their level of French was a perfect level for us to interact with.
For one week, we worked alongside a group of master's students to welcome Polish and Slovakian students who had taken part in a project called DECLAME'FLE. The week was packed with workshops, guided tours, cinema expositions and discussions, many of which focused on the topics of migration, exile, and feminism, once again through French. We were tasked with documenting the week through videos and photos for the project's social media platforms while welcoming the students and helping them to discover the city of Rennes. This week was particularly enjoyable as we made quite a few new friends and it challenged our French conversational skills with Polish and Slovakian students. All the activities were very immersive and beneficial for our language-learning.
We were also introduced to a former project of Christine Evain called BookHoof. BookHoof is an organization that holds workshops with students to write and illustrate children's books which are then uploaded to the website and accessible to children all over the world, free of charge. The organization recently changed hands to another intern and future doctorate student who tasked us with editing some books before they were uploaded to the website. Many of the books were in French which meant we needed to recognize grammatical and punctuation mistakes - a new and yet enjoyable experience for us. 
On top of meeting and working with academics of Rennes 2, we were lucky enough to attend an international conference in Nantes with Christine Evain called "Crises, défis, innovations" where academics from around Europe presented their findings from research projects specific to teaching and learning a foreign language for a specific purpose and the use of corpora in that field. This conference was remarkably interesting and engaging for us as current language-learners and future language-teachers as many different teaching methods were discussed including innovative ideas such as learning in a 3D virtual environment etc.
Did you manage to see  any touristic sites as well while here? 
Typically, we worked on campus attending meetings or working on tasks from 9-5, Monday to Friday, which left us with a lot of free time to explore Rennes and its surrounding areas. In the evenings, we would often go to the cinema or meet new friends for a meal or a drink. Rennes is a very international and social city, perfect for students. At the weekends we took the time to explore the city, visiting attractions such as the Museum de beaux arts, Parc du Thabor and Marché des Lices -which takes place every Saturday morning. The metro was very affordable and granted us access to all the city has to offer. During the weekends we also availed of the great rail system here in France to visit surrounding cities. Throughout our time here we visited places such as St. Malo, Paris, and Nantes. Each of the locations had a lot to offer and lots of different things to do. For example, swimming in the sea at St. Malo, visiting the Eiffel tour and Louvre in Paris and shopping in Nantes are some of our fondest memories of our time in France.
Image

texte
What are your biggest takeaways from this immersion-based experience?
The internship gave us an exclusive insight into language research, language-teaching and acquisition as well as the possible routes of our future careers. We also had the opportunity to improve our skills in the French language particularly our listening and oral skills. We were also exposed to French culture and became accustomed to the French way of life (we might have drank all the café crème in the city). All the while, we made great connections with students from around the world and scholars within the academic community. In addition, we improved our technological skills by using excel, video editors and booklet formatting software. Overall, the internship was a unique and a remarkable opportunity which enlightened us to the world of language teaching and pedagogical research specific to languages. It was a fantastic and unique experience which we thoroughly enjoyed. Not only did we get the chance to experience a French educational environment and improve our French, but we also had the opportunity to travel and explore France. The entire experience allowed us to grow not only as students and teachers but as individuals. We hope to return to France in the future to continue improving and learning.
Image